Benjamin Juhani Halsall
Portfolio & Projects
I am a designer and teacher with over 10 years experience in web, video, social media and print. I am course leader for BSc (Hons) Broadcast Media Technologies at Leeds Metropolitan University in the UK and an Apple Certified Trainer for Final Cut Pro 7 & X.
resumé: download pdf email: benhalsall@hotmail.com twitter: @benhalsall linkedin: benjaminhalsall
interaction design & hacking
Our City, Our Music (2009)
This interactive project using location aware handheld devices is a collaboration with digital artists Ben Dalton and Megan Smith. To create Leeds' first geo-located album we worked collectively with bands and filmmakers from across the city create 11 videos located around the streets of the city were created. The album is an immersive virtual tour of the city where participants navigate the city guided by the rich spoken narrative and music of these local artists.
http://www.OurCityOurMusic.com
interactive map of video and audio tracks made/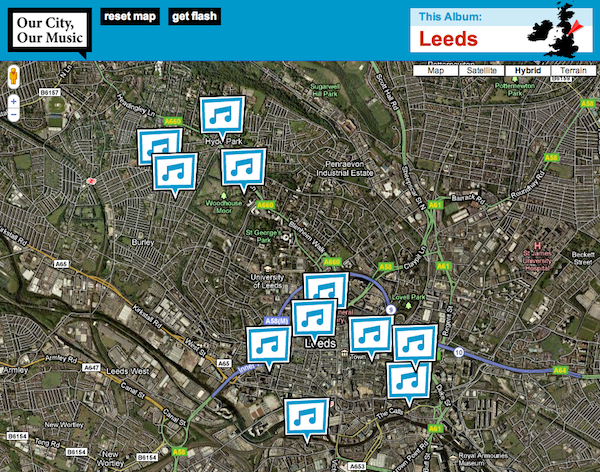 Creative Physical Computing (2007)
This hacking project was part of the developmental work for the new course BSc(Hons) Experimental Media. In particular looking at applications for open-source micro computing platforms such as Arduino, Processing in a design and education context.
Megan L. Smith's "Pst! microCONTROL" (2010)
I recently worked on the programming for Canadian artists Megan L. Smith on her project Pst! microCONTROL. This was recently installed in the Watermans arts centre for their recent show Unleashed Devices. The project involved working with the Arduino open-source electronics platform enabling it to interface directly with the inernet to read and parse data using Twitter's API.

The www.DoGoSee.com Project (2006-2009)
This locative digital project explores the narratives of inhabitants and visitors to cities. In performative pieces in Leeds, Berlin and London suggestions of places to visit and things to do in these cities were caried out by myself and co-conspirator Megan Leigh Smith. The records of these urban explorations were developed live into emotional maps using mobile phone cameras and GPS technology.
Record Process Generate (2007)
This interactive collaboration with the artist Dave Lynch used two live feeds to record image and movement. Then using Max/MSP and Jitter this captured data was sent to VVVV which projected an image in 3D space that users could control live.
moving image
Megan L. Smith's "As I try to be an avatar and Edwige tries to be me." (2010)
I edited this film for the artists Megan L. Smith. Working with Final Cut Pro and Motion to the aim of the project is to combine the virtual world of Second Life with real world performances in Toronto, New York, Cocoa Beach and Leeds.
CHOPS, Manland No. 5 (2009)
A collaboration with the band CHOPS and filmmaker and artist Dave Lynch this video explores the architectural space of the abandoned International Swimming Pool in the city of Leeds. The film experiments with the reprojection of a live performance of the band that was recorded in this location using binaural microphones. It tells the story of the performance, a changing city and people's relationships with the urban spaces they inhabit.
city and sea (2007)
"The cloud had floated over that part of the city only a few minutes before and, given the strong westerly wind, was not destined to remain above it for long. The lights of surrounding offices lent to its edges an almost decadent fluorescent orange glow, making it look like a grave old man bedecked with party decorations, and yet its granite grey centre testified to its origins in the slow interplay of air and sea." [1]
Leeds Walks (2005-ongoing)
This experimental work documents the changing landscape of a city over a number of years as it mutates around its inhabitants. The documentation and juxtaposition of identical journeys unfold the cities shifting fabric over time revealing the physical and virtual secrets that often go unnoticed around.
Slices (Leeds Ring Road) (2006)
books & digital imaging
The following books and digital images explore the complex interactions that take place between people and places in a networked digital age where previously geographical separation could have meant a permanent disconnection between families and communities.
1516 kilometres to the Ocean - about 15 hours and 56 minutes. (2007)
away from you (2007)
Be sure that you say goodbye. (2007)
Peggys Cove is a seductive location of arrivals and departures where the Atlantic Ocean meets the batholith rocks of Nova Scotia's shores. This photographic work explores human interventions that shape the way we interact with this space.
From the city to the sea. (2007)
"When the sun did rise, it dawned on me that ordinary ways of using language were insufficient to describe the meanings of the North Cape. I suddenly knew that I ought to use words sharp as the line of black ink on a white page, analytical tools that can cut through the world in rational and violent ways." [2]
This image is produced from a single shot of video documenting a journey from the city of Leeds to the north east coast of England.
[1] Alain De Botton, (2003) The Art of Travel. London, Penguin Books Ltd. p.139
[2] Inger Birkeland, (1999) 'leisure/tourism geographies:practices and geographical knowledge - The Myth o-Poetic In Northern Travel', p. 18
email: benhalsall@hotmail.com
twitter: @benhalsall
linkedin: http://www.linkedin.com/in/benjaminhalsall